Visualize your potential facial plastic surgery results using our Digital Morphing Tool
Dr. Lamperti often utilizes computer morphing technology to simulate the changes that can be made during plastic surgery surch as rhinoplasty and chin augmentation.
Now you can harness the power of this technique yourself to simulate the changes that you would like to make to your facial features. Click on the button below to begin your simulation.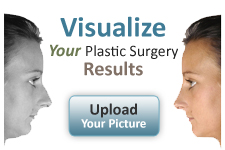 The morphing tool will allow you to upload your photo which you can then modify. Once you have completed morphing the photo you can then save the new version and even forward your before and after photos to Dr. Lamperti to review. He can assess whether he thinks your simulated surgery may be possible. You can also share your photo on facebook to see what your friends think of your new look.
Read more about Dr. Lamperti's use of computer morphing here.
My experience with Dr.Lamperti as my surgeon for Rhinoplasty, Deviated Septum Correction, and Italian Lip Lift procedures has been positive far beyond my initial expectations.
LE - Seattle, WA
View More Patient Testimonials ›
Schedule your In-Office or Virtual Consultation with Dr. Lamperti
Thomas Lamperti, MD personally performs all in-office and virtual consultations where you will be able to learn about your customized cosmetic or reconstructive surgery options.