Crooked or Deviated Nose Rhinoplasty
What Makes It Difficult To Straighten A Deviated or Twisted Nose?
One of the most difficult things to do during a rhinoplasty is to straighten a crooked nose. Several factors make this more challenging. The first factor is that the deviated cartilage and bone has a certain level of memory such that unless this is addressed the nose tends to drift back towards its pre-operative position. Another factor is that especially in congenitally crooked noses the nasal deviation may also occur in the setting of facial asymmetry. What this means is that it can be difficult to find a true midline plane in which to try to place the new nasal position.
What Is Involved In Straightening A Crooked Nose?
To create a more straight nose the underlying framework must be made as straight as possible. This includes repositioning the septum and nasal bones. If a septal deviation is not addressed it may continue to push the nose off center. If the caudal septum is off center this portion of the septum can be rebuilt in the midline. Once the septum is centered any deviation of the nasal bones needs to be addressed.
How To Straighten Deviated Nasal Bones
The nasal bones are commonly shifted with trauma. If not treated at the time of the initial nasal fracture the bones will heal in a crooked position. The resetting process takes about 6 weeks. After that time controlled bone fractures can be done. These osteotomies (bone cuts) are done with a fine medical grade chisel and allow for mobilization of the crooked nasal bones.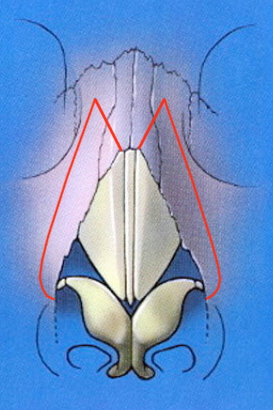 You can watch a video of medial and lateral osteotomy placement in the operating room here.
What Else Leads To A Deviated Nose?
Additional factors that can lead to the appearance of a crooked nose include internal and external valve collapse. The shadowing that results from this narrowing is what creates this appearance, especially when it occurs asymmetrically.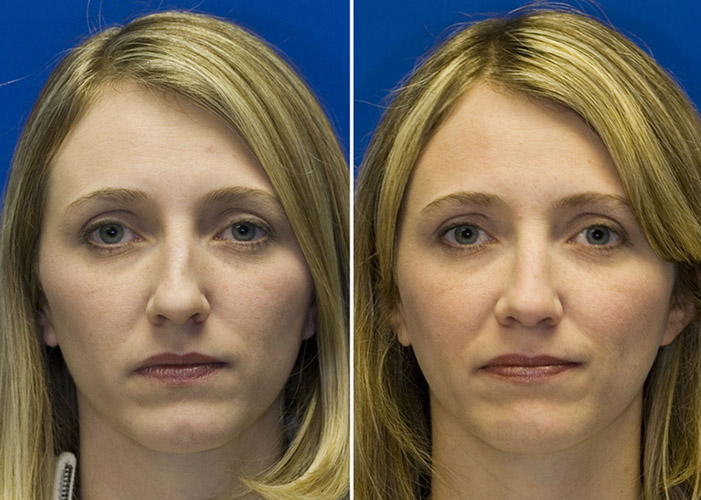 This patient has pinching of the middle third of the nose on her left which creates asymmetric shadowing in the area The result is the appearance of crookedness even though the rest of her nose is actually in the midline. This situation is typically treated with spreader graft placement.
Before and After Twisted Nose Rhinoplasty Case Study Video
This video discusses the case of a patient with an S-shaped twisted nose deformity:
More before and after crooked nose rhinoplasty example photos