Rhinoplasty Frequently Asked Questions (FAQs)
How much will rhinoplasty cost?
Rhinoplasty costs vary quite a bit depending on several factors: how much work needs to be done; is this a revision procedure; do any additional grafts need to be harvested (ear, rib); is there a functional (breathing) component that can be covered by insurance? Surgeon experience is another important factor as rhinoplasty surgeons with extensive experience generally have higher professional fees. You are paying for the reliable, consistent results this experience provides.
The complexity of the procedure is also reflected in the total surgery time which is what the anesthesia and operating room fees are based on. Obviously, it is quite difficult to give a precise surgery cost without an examination. After your consultation with Dr. Lamperti you will receive a price quote for surgery, including facility and anesthesia fees based on the total surgery time estimate. If you would like a preliminary estimate before you visit us in person, you can set up a virtual consultation with Dr. Lamperti.
Will my nose be packed after surgery?
Many people have heard horror stories of family or friend's nasal surgery and the strip gauze packing that had to be removed afterward. Dr. Lamperti doesn't find this packing necessary so avoids its use. Depending on the situation, a thin plastic or silicone sheet may rarely be placed along the septum to further optimize healing. Even with this in place, your nose will not be totally blocked and you will still be able to get some airflow through your nose. The splints are removed 1 week after surgery.
What kind of dressing will be on my nose right after surgery?
The outside of your nose will be taped with paper tape followed by a plastic cast. This cast, which is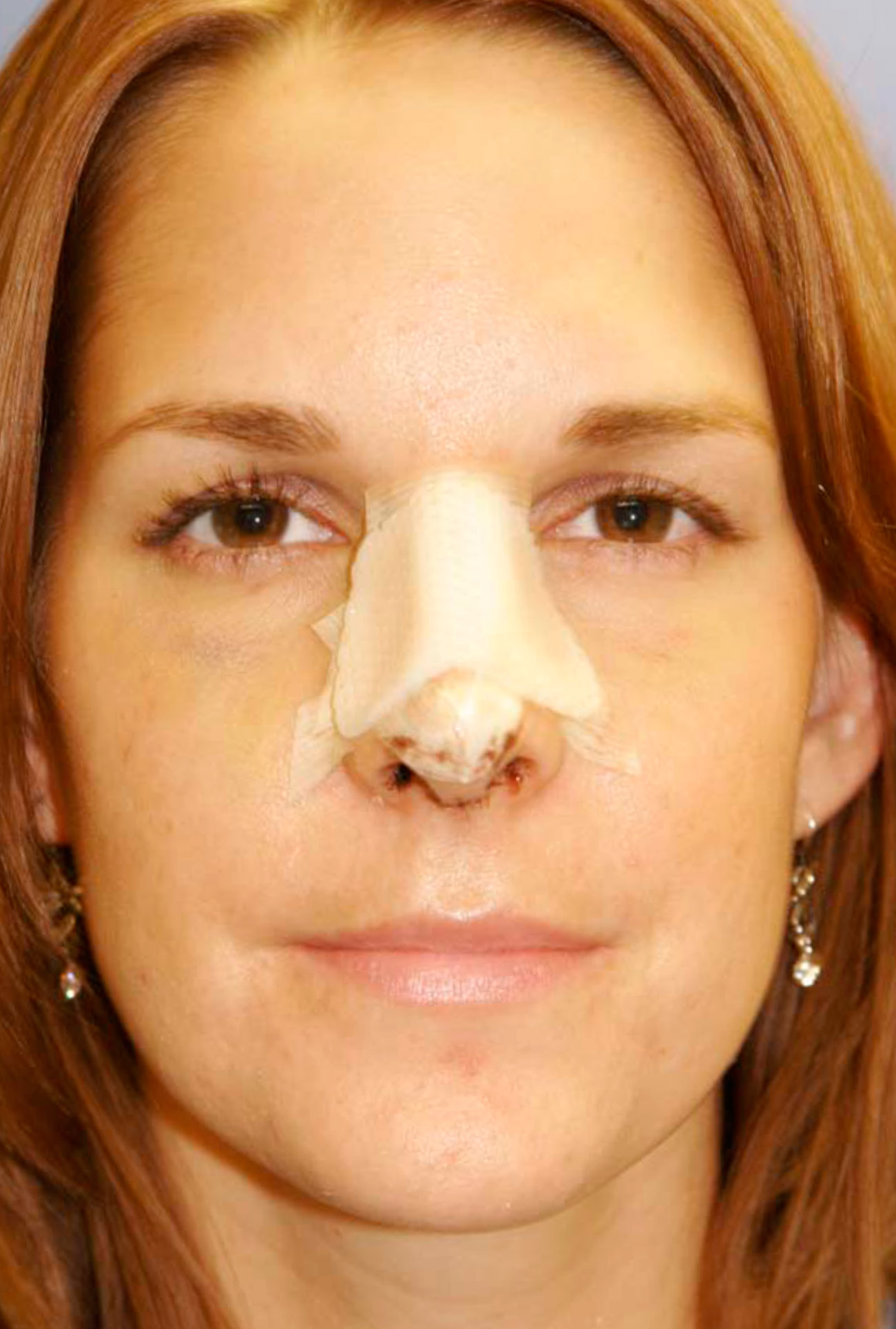 molded to your nose at the end of your surgery, acts as a "helmet" during your first week of surgery, helping to maintain your nasal bones in their new position. If controlled bone fractures are not done during your surgery you may only need a tape dressing to help with reducing your external nasal skin swelling.
You will also have a gauze "mustache" dressing under your nose for the first few days after surgery. This acts to catch any bloody nasal drainage that you may have after your nasal surgery. You can change the gauze dressing periodically as needed during your initial recovery period. You can read more about the post-rhinoplasty dressing here and see a video of Dr. Lamperti putting on a rhinoplasty cast and dressing here.
What kind of incisions are made during rhinoplasty?
The incisions used during rhinoplasty depends on the rhinoplasty approach used. If an endonasal, or closed approach, is used the incisions are hidden on the inside of the nose. If an open, or external approach, is used an additional incision on the columella is added. You can learn more about the open rhinoplasty incision here.
I'm ready to have rhinoplasty but am nervous about having anesthesia. What type of anesthesia is used during rhinoplasty?
There are a few options when it comes to the anesthesia used during rhinoplasty. Minor touch up procedures may be able to be done with just local numbing medicine. Otherwise, the majority of rhinoplasty surgery is done using either deep IV sedation or general anesthesia. When choosing the type of anesthetic to use things to consider are safety, comfort, and costs. I find that general anesthesia provides the most safe and controlled situation for my patients by ensuring that they are comfortably asleep for the entire operation while at the same time protecting their airway. Anesthesia fees are the same no matter the type of anesthetic used and the greater level of control with general anesthesia allows for reduced swings in blood pressure and concomitant bleeding, bruising and swelling. Learn more about Rhinoplasty Anesthesia here.
Will I look very different after surgery? Will people notice?
Patients often express concern that they will look drastically different after surgery. In actuality, we find that when patients do head back to work and their daily activities their friends and acquaintances will ask "You look great. Did you get a new hairstyle?" or "Did you go on vacation? You look so refreshed?" Using preoperative imaging you can discuss with Dr. Lamperti how much of a change in your nasal appearance you are looking to have.
When can I work out after my plastic surgery procedure?
Aerobic activities should be avoided for at least three weeks following surgery. Any activity that leads to an elevation in your blood pressure will increase the amount of time it takes for postoperative swelling to resolve. This also increases your chances of excess scar formation under the nasal skin. You will also likely notice an increased aching or throbbing to your nose as well. After about 3 weeks of recovery you can start to ease back into exercising. It is recommended that you start off slowly at first and then build up. Your body will let you know if you're over-doing it. If controlled bone fractures were done during your surgery, activities that could lead to hitting your nose should be avoided for 6 weeks after surgery. It takes this long for the nasal bones to fully seal back together.
Can I wear my glasses after surgery?
There are no limits to wearing glasses on top of your cast during your first week of recovery. Once the cast is removed you should avoid wearing glasses (including sunglasses) directly on your nose for a total of 6 weeks after surgery. This is to avoid having the weight of your glasses shift your healing nasal bones. If controlled bone fractures aren't performed during your surgery, you can wear glasses at any time.
Are there a limited number of revision procedures I can have?
No, there is no absolute limit to the number of revision rhinoplasty procedures you can undergo. However, often there are diminishing returns as scar tissue develops after each procedure. Only by examining you in person can Dr. Lamperti fully assess your revision surgery options.
Will my breathing worsen after rhinoplasty?
With either cosmetic or functional rhinoplasty your breathing should not worsen once the nose heals. Using a structure-based rhinoplasty surgical approach techniques are performed during surgery that can help maintain or improve your breathing.
Is rhinoplasty surgery painful?
Some discomfort can be expected after any surgery. All patients are provided with prescriptions for narcotic pain medication. Patients sometimes use the prescription medication two to three days after their rhinoplasty surgery and then switch to acetaminophen (Tylenol). Some patient use only acetaminophen after surgery. It is rare for patients to report unmanageable pain after their rhinoplasty surgery. Numbness or discomfort behind the two front teeth is common and temporary.
When can I return to work after rhinoplasty?
Most patients take one week off work after rhinoplasty but occasionally other patients prefer up to two weeks. The external cast on the nose is removed one week after surgery. Any external sutures are also trimmed at that time. Once the cast is removed any residual bruising and swelling can be camouflaged with make-up. Patients who are more concerned with privacy prefer two weeks off work after their rhinoplasty surgery.
I'm traveling to Seattle from out of town. How long do I have to stay in the area after surgery?
Dr. Lamperti recommends that his patients stay in the Seattle area for at least seven to ten days following rhinoplasty surgery. After that it's okay to fly or travel long distances.
How do I avoid getting a Michael Jackson nose?
The number one way to avoid a rhinoplasty result like Michael Jackson's nose is to pick an experienced rhinoplasty surgeon who has rhinoplasty results that you like. The overly reductive approach that was used during Michael Jackson's rhinoplasties left him a nasal cripple with inadequate nasal tissue left to allow for a normal appearance and airflow.
What kind of board certification should I look for in my rhinoplasty surgeon?
You should find a rhinoplasty surgeon who is certified by either the American Board of Facial Plastic and Reconstructive Surgery (ABFPRS) or the American Board of Plastic Surgery (ABPS). Learn more about rhinoplasty surgeon board certification here.
Schedule your In-Office or Virtual Consultation with Dr. Lamperti
Thomas Lamperti, MD personally performs all in-office and virtual consultations where you will be able to learn about your customized cosmetic or reconstructive surgery options.