Rhinoplasty Surgery
On the day of your surgery you will arrive at the surgery center having fasted for 8 hours prior to your scheduled surgery time. You will meet with several staff including your anesthesiologist who will review your anesthesia options in more depth. You will also meet with Dr. Lamperti again to finalize the plan and answer any additional questions you have about surgery.
When it's time for you surgery to start you'll head to the operating room where you'll meet the rest of the surgical team, including the circulating nurse and surgical scrub tech. The circulating nurse will make sure you're comfortable and well-padded on your bed. He or she will also apply "leg squeezers" (cuffs that wrap around the lower leg to help prevent leg blood clots) . The scrub tech is specially trained to assist with surgical procedures and helps Dr. Lamperti by providing the proper instruments during the procedure.
Once Dr. Lamperti completes your surgery he will close your incisions with a variety of sutures. With modern day rhinoplasty techniques that Dr. Lamperti utilizes no packing is required inside the nose. Occasionally, a thin plastic septal splint is used to help support the septum in complex septal reconstructions. The external dressing is then applied which looks like this: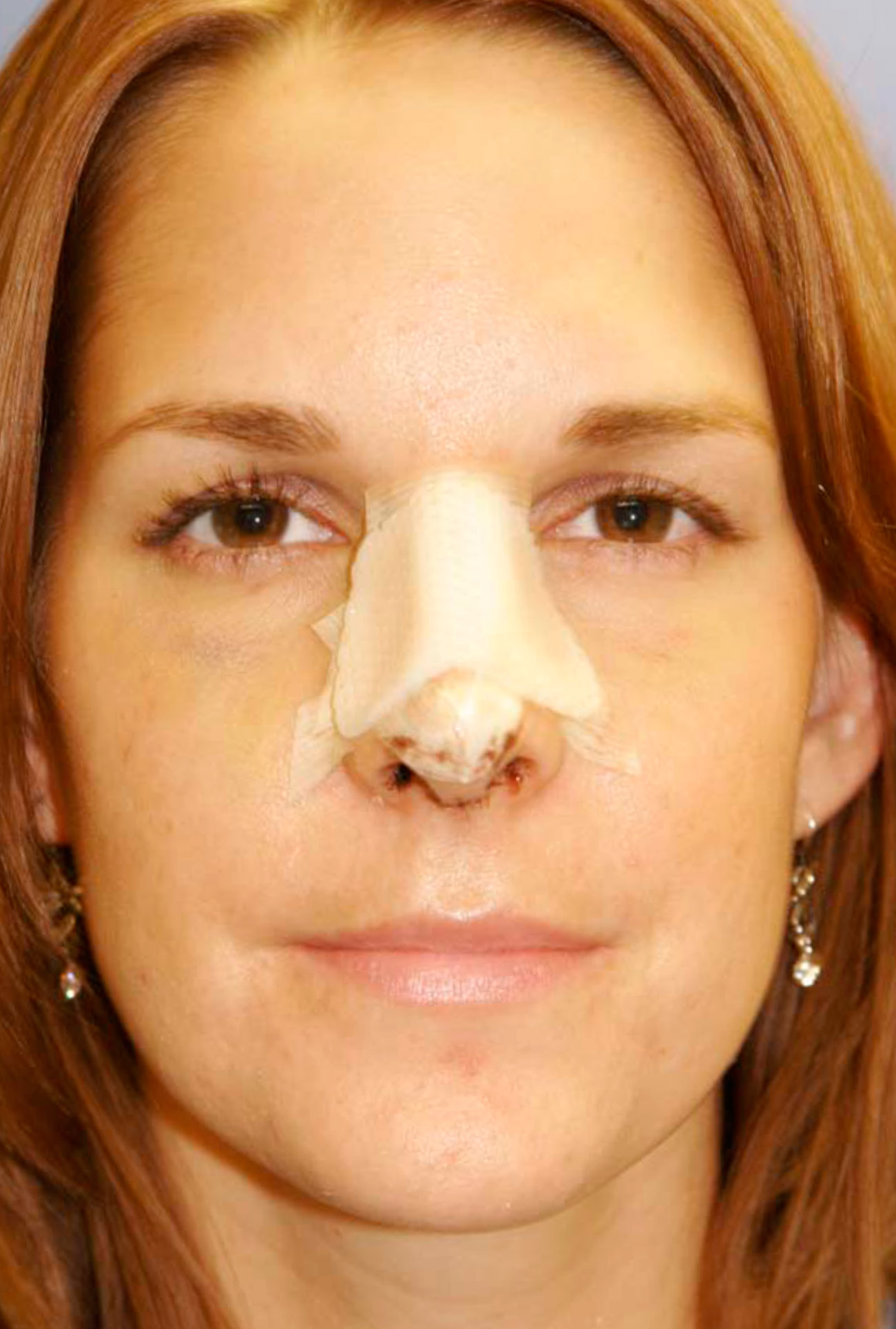 The typical rhinoplasty dressing and cast includes the following:
Non-stick Telfa dressing (same material as the white of a band-aid) over the bridge of your nose. This makes it easier to remove the dressing the week following surgery without disrupting the proper reseating of the nasal skin onto the underlying cartilage and bone.
Steri-strip tape which helps to limit your skin swelling
A moldable plastic Aquaplast splint is then placed over the nose if controlled bone fractures were performed. This cast acts to protect the mobile nasal bones and prevent unwanted shifting during the healing process.
Lastly, a folded gauze dripper (mustache) dressing is placed under your nose to catch any bloody nose drainage.
You can watch a video where Dr. Lamperti puts on a rhinoplasty dressing and cast here
After your dressing is in place your anesthesiologist with wake you up and you will then go to the recovery room. Your diet will be advanced from ice chips and water to more solid food and then you'll be able to go home to continue the recovery process.
I wouldn't have wasted time considering other surgeons if I'd read about experiences like mine in review sites.
AA - Bainbridge, WA
View More Patient Testimonials ›
Schedule your In-Office or Virtual Consultation with Dr. Lamperti
Thomas Lamperti, MD personally performs all in-office and virtual consultations where you will be able to learn about your customized cosmetic or reconstructive surgery options.