Find out how a columella strut can be used to maintain nasal tip support during rhinoplasty surgery.
A common graft used during open rhinoplasty surgery is the columellar strut.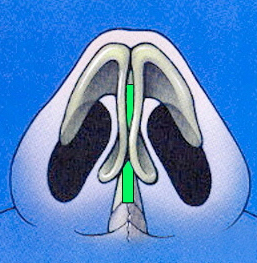 A columellar strut is a piece a cartilage that is inserted between the medial crura of the nasal tip.
This cartilage acts to add additional support to the tip after surgery and help to prevent long problems of tip drooping (ptosis).
The schematic drawing to the right shows where a columellar strut is placed. The graft is usually stabilized with a dissolvable suture until the graft heals into the area and supports the native tip cartilages on its own.
You can see how a columellar strut is carved and inserted in Dr. Lamperti's SurgeonCam video below.
Video Transcript:
"Dr. Lamperti: This is Seattle facial plastic surgeon, Dr. Thomas Lamperti. Today I'm going to show you how to place a columellar strut in order to maintain tip support during rhinoplasty.
First we have to carve the columellar strut. Here I'm carving the strut from a portion of septal cartilage that I harvested from the patient earlier in the procedure. In this patient I'm looking to create a straight columellar strut. In patients with tip deviation I'll sometime use a curved piece of cartilage to create the strut in order to push the tip in the direction I want.
Once I'm happy with the strut dimensions I dissect a pocket between the medial crura of the nasal tip. I dissect down to the very base of the nose in order to create the most support once the strut is placed. Next I'll insert the columellar strut in this newly formed pocket. As you can see I make the pocket fairly precisely sized so that the graft doesn't have anyway to migrate to. Once the graft is in place I fine tune its length using a scalpel. We want to make sure that there won't be a cartilage edge that is going to press up against the nasal tip skin.
Ultimately, I'll then secure the graft in place using a dissolving suture that is placed in a quilting fashion that loops through both sides of the columella. We place a columellar strut during rhinoplasty in order to maintain tip support and prevent tip drooping as the nose heals."
Schedule your In-Office or Virtual Consultation with Dr. Lamperti
Thomas Lamperti, MD personally performs all in-office and virtual consultations where you will be able to learn about your customized cosmetic or reconstructive surgery options.