Revision Rhinoplasty
Make your next rhinoplasty your last. Even if you have already had nasal surgery, a revision rhinoplasty (nose job), can create a more refined and proportioned nose that not only looks better but also functions better.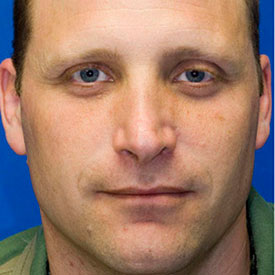 Before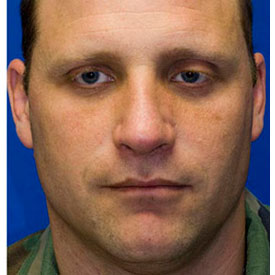 After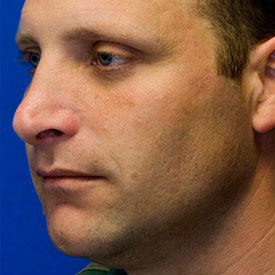 Before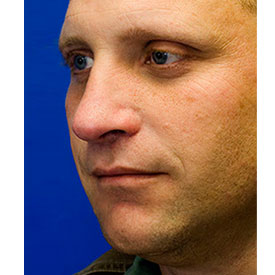 After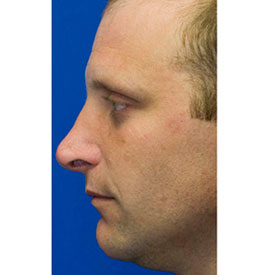 Before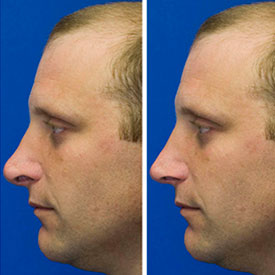 After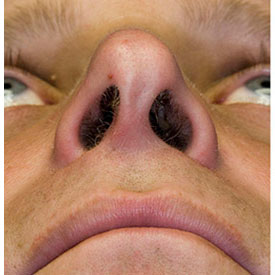 Before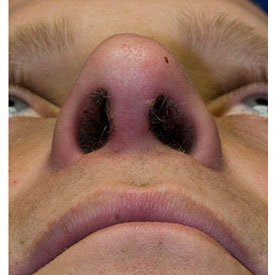 After
Twisted, pinched tip, pollybeak deformity and increased columellar show
This gentleman had a septo-rhinoplasty by another physician about 7 years prior to his initial consultation with Dr. Thomas Lamperti. He reported that his bridge was now straighter on profile but that he had difficulty breathing. Dr. Lamperti identified a persistently deviated nasal septum along with a twisted nasal tip and collapse of the left supra-alar region (the area just above the left nostril on frontal view). On profile view one can see that the patient also has rounding of his tip (also called a polly-beak deformity) and excessive columellar show and alar retraction. The patient is shown before and just 3 months after (with attendant swelling still evident) undergoing a revision septorhinoplasty. On frontal view one can see that the patient still has a significant amount of swelling to his tip. On base view a more symmetric tip is evident. The profile view shows the patient's preoperative computer imaging in the middle pane and the 15 month result on the right. Already there is a more natural tip contour with a reduction in the amount of columellar show and alar retraction.
To schedule your consultation with Dr. Lamperti, contact us or call 206-505-1234.
At my recent High School reunion someone told me that I had a perfect nose thanks to my revision rhinoplasty with you.
PM - Anchorage, AK
View More Patient Testimonials ›
Explore more Before & After Galleries: